---
Developer: Lucidrine
Programmer: Miguel Pro Verianto/cruxblack
Concept: Wimindra 'Azrael' Lee
Artwork: Azrael, Tipleloop & Psycho Pau
Site:
Lucidrine
Genre: Simulation
Size: 1109 KB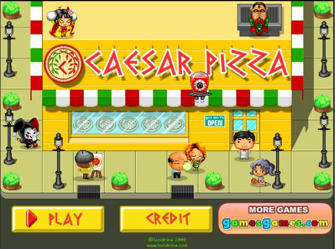 Description:
From Palermo to Pisa, the best pizzas come from Italy! You are pizza chef that open new pizzaria, complete all 20 level and win all the pizza tournament to become the best pizzaria in the country
Instructions:
Click to throw the ingredient in a row to make clumps of 3 or more the same ingredients. Once you've freed all the ingredients necessary for the customers' order, the pizza will be created, cooked, and served to the customer automatically. You can also change for keyboard control on options screen
Be careful not to make your customers wait too long!
Screenshots:
Links:
Portal Play
GamesGames
Download:
Mediafire