---
Developer: Arief Raditya P(belugerin)
site:
Belugerin
Genre: Shooting+Puzzle
Artwork: Awaken Dream Studio
Music: Tony Sugianto
Size: 5.88 MB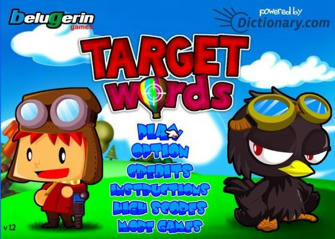 Author's Comment:
Mike's mother has been sick, he wants find 3 potions that owned by 3 crows to help his mother. Unfortunately, they give a test for Mike to collecting 60 words to have that potions. Help Mike to find it by flying his balloon around a world of Target Words.
Shoot a balloon to drop a letter box and fill word answer, play across 60 levels around a world of Target Words to help Mike's Mother. Use (W and S) or (Arrow Up and Arrow Down) to move the Balloon. Left click mouse to shoot. Press P to pause and show the menu. Read in-game instructions and tips. Beware of small crows, they can throw stones. Your life decreases with each stone that struck your balloon. Mission failed if you run out of life. Shoot the crows to gain more scores.
Screenshots:
Links:
NewGrounds
KongreGate
Belugerin Games
Download:
Mochiads