---
Developer: Belugerin
Programmer: Arief Raditya P (Belugerin)
Site:
Belugerin
Genre: Strategy
Size: 5.48 MB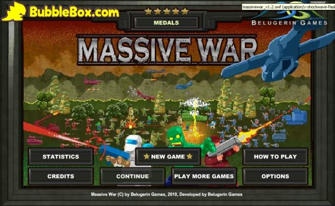 Author Comments:
In the year 2082 humans have colonized Mars and Pluto. Earth is no longer a prosperous planet, but is still a powerful military force. When scientist discover a distant naturally rich planet called the 'Bluegreen Planet' each planets sends their troops to battle for control over the new planet. Train soldiers and build military units and structures to overpower your opponents.
Keyboard shortcuts:
[Q] - fast forward to the left. [W] - fast forward to the middle. [E] - fast forward to the right.
Click the icons to train units or use the [1..6] number keys.
Click the formation buttons to change formations.
Click the edge of the screen while scrolling to speed it up.
Thanks for some suggestions, we will try to update this game regularly.
Latest file, update version 1.4:
All unit's speed increase.
Bombs Attack's (2nd special attack) damage decrease, in case can only win with it.
Infantry's cost decrease.
Air and Navy base live increase.
Air unit maneuver removed.
Screenshots:
Link(s):
Newgrounds
Online Flash Game
BubbleBox
Flonga
Funny games
Download:
Mediafire