---
Developer: whawstudio
Producer: Lucidrine
Artis:
Jotter
Site:
Lucidrine
Genre: Difference Games
Size: 2.01 MB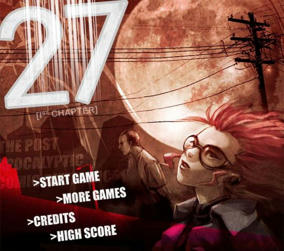 Description:
Unriddle the story of 27 by finding the differences. in the year 20XX global climate change turned the world into extreme conditions between oceans and deserts. Will our hero be able to survive on this doomed earth full of crime?
Instructions:
Use the mouse cursor to click on the picture. Once all differences are discovered you will move on to the next picture. Any bad spot will deduct time and points.
Screenshots:
Links:
KongreGate
NewGrounds
PortalPlay
ArcadeBomb
Download:
Mediafire