---
Game Sponsor: BubbleBox
Game Designer: Belugerin Games.
Game Artist: Awaken Dreams Studio.
Game Programmer: Arief Raditya P.
Level Designer: Arief Raditya P.
site:
Belugerin
Genre: Strategy
Size: 8.57 MB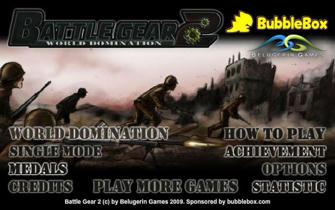 Description:
The follow-up to the hugely succesful Battle Gear strategic warfare game by Belugerin Studios.
Your goal is once again to conquer the world. One of the developments in this follow-up is the introduction of alliances (USA, Europe, China, Russia, Australia, Africa, Middle East and Indonesia) which you can control to attack various parts of the world.
Game Instructions:
Choose your alliance and conquer the world.
During battle:
[Left/Right arrows] or [A]/[D] to scroll the field.
Press [Z], [X] and [C] keys to fast scroll to the left, center and right edge of battlefield.
Click units to train or use [1..9] hotkeys.
Press [P] to pause the game
Screenshots:
Links:
BubbleBox
Newgrounds
Download:
Mediafire