---
Programmer: Rudy Sudarto
Genre: Strategy
Size: 12.17 MB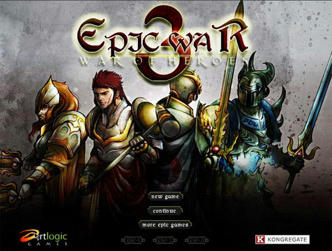 The most epic entry of the Epic War series. Defeat your opponents in battle to conquer every spot on the board. Build and upgrade your deck, form a strategy, protect your castle, and crush all who stand in your way!
Updates:
-Retreat button to make all unit sentback , charge button to make all unit go forward enemy castle *
-Select *all unit by pressing "zero" button
-There is horn warning if revenge wave is initiated
-CastleName bug fixed
-Yetti Achivement bug fixed
-Add Hero Hp at top thumbnail
-Hero can now respawn but you will be reward if your hero not die in battle
-CounterWave is appear when your hero at level3, so in first level people dont complain how hard the game is
Tips:
-You can place your unit using "space" button if clicking is hard
-You shouldnt cast all your units to the frontline.
-Sometimes send backward your unit is good.
-You can regen your units or hero by let them idle.
-Range unit is good backing up melee units.
-Attack in groups is better than just send one by one .
-You can play newgameplus to get all cards.
-Use attack skill cards to hold the counter attack.when outnumbered, formation + tactic is crucial for Victory !!
-You can get new cards by leveling up your hero.*
-You can play Cave Of trials after completed the game once. Be sure for setup max your cards, the level is very challenging but the reward is worth it, you will get Titan unit cards
-Last tip: Beware for counter attack
Screenshots:
Links:
Kongregate (Sitelock)
Newgrounds
Download:
Mediafire