---
Programmer: Arief Raditya (belugerin)
site:
Belugerin
Genre: Strategy
Size: 5350 kb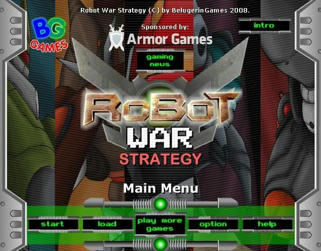 Description:
The war is begin. Lead your robot troops to bring a victory on the warfield
- more than 200 missions
- 6 maps
- with 12 differents robot
- 5 type of upgrades
Keyboard:
UP and DOWN: change the start positions.
LEFT and RIGHT: change the robot type.
SPACE BAR: release the robot.
P: pause the game and show the menu.
Screenshots:
Links:
Newgrounds
Belugerin Games
Download:
Mediafire